Compulsory Basic Training (CBT)
So What is a CBT?
Compulsory basic training (CBT) was introduced in 1990 to help reduce the high accident rate amongst inexperienced motorcyclists. CBT must be completed before a learner moped or motorcycle rider is allowed to ride on the road with L-plates or D-plates in Wales.

You will need to complete CBT if:
•you want to ride a moped (a moped has an engine not over 50 cc with maximum design speed not exceeding 50 kilometres per hour (km/h) which is approximately 31 miles per hour)
•you want to ride a motorcycle
If you obtained your car licence before 1 February 2001 you do not need to complete a CBT to ride a moped.

What does CBT involve?
The CBT course involves five elements:
A. introduction
B. practical on-site training
C. practical on-site riding
D. practical on-road training
E. practical on-road riding
The five elements have to be completed in sequence, although the order of the exercises within the element can be varied. You will only move on to the next element when your instructor is satisfied you have learnt the necessary theory and demonstrated the practical skills to a safe basic level. Trainees must, by law, receive a minimum two hour on-road ride in Element E.
Certificate of completion (DL 196) When all five elements have been satisfactorily completed (this may take more than one day), a certificate of completion, called the DL196, is issued. This is a legal document which validates the relevant entitlements on your driving licence.

It is important that the holder of a DL196 considers the following points:
•a DL196 certificate validating a provisional moped or provisional motorcycle entitlement lasts for two years - CBT will have to be retaken if both theory and practical tests are not passed within the two year certificate life
•for moped entitlement only, if you pass your car driving test whilst your DL196 is still current or complete a CBT course and obtain a DL196 after passing your car test, the certificate is not subject to expiry, you will therefore need to keep your DL196 certificate safely. Please note that this applies to mopeds only, for riding motorcycles as a learner the DL196 remains valid for two years

Once you have your certificate you are advised to take additional training to pass your theory and practical tests and qualify for a motorcycle or moped licence. You must take the DL196 certificate with you when you go to your practical test.

Where and how much?
Only instructors certified by the Driving Standards Agency (DSA) can teach CBT at an approved training body (ATB). ATBs must have instructors who have successfully completed a two day assessment and have sites approved by DSA for off-road training.
Most ATBs offer the loan of machines and helmets for the course. The cost of CBT may be incorporated into the cost of a full training course that leads to a motorcycle test.
Please note:
At any point throughout the CBT course the instructor may stop training and ask the student to rebook. This may be due to a number of reasons. If this is the case the instructor will explain why he/she has chosen to do so and be available to give a full debrief and answer any questions. Any rebookings will be charged at an hourly rate and the instructor will advise as to how many hours are required.
0208 452 3300
===============================================================
Direct Access (DAS)
The Direct Access Scheme (DAS) allows riders aged twenty-one or over to take a test on a large motorcycle, allowing them upon passing the test to ride any motorcycle without restrictions.
You must complete CBT (which you can do as part of an intensive course), a motorcycle theory test and take a practical test on a 500cc motorcycle.
The New 2 Parts Motorcycle Test
(Module 1)
The new motorcycle test
The new motorcycle test aims to improve the standard of road safety for motorcycle and moped riders. This user group has been identified as having a high risk of injury or death, this is particularly the case for young and inexperienced riders.
The new test will be completed in two modules. The specified manoeuvres conducted at specific speeds will be tested in Module 1 on safe off-road sites and take on average 22 minutes.

These specified manoeuvres are:
At least two manoeuvres carried out at slow speed, including a slalom
At least two manoeuvres carried out at higher speed, of which one exercise should be in second or third gear, at a speed of at least 30 km/h (approx. 19 mph) and one exercise avoiding an obstacle at a minimum speed of 50 km/h (approx. 32 mph)
At least two braking manoeuvres, including an emergency brake at a minimum speed of 50 km/h (approx. 32 mph)
On the day of the Module 1 test, candidates will be asked by the examiner to demonstrate their riding ability on either the left-hand or right-hand circuit. Please note that the standard off-road layout may change due to local conditions on the casual sites.
Those candidates who have demonstrated riding skills of a dangerously incompetent level during Module 1 will not be permitted to take Module 2.
Those candidates who have passed Module 1 will receive a Test Pass Certificate which they must bring with them when they take Module 2.
Module 2 of the test will be about 57 minutes in length and will consist of the eyesight test, road safety questions and at least 30 minutes of road riding. consisting of a road ride covering a variety of road and traffic conditions and will also include normal stops, hill and angle starts.
The practical moped riding test
The practical moped riding test (which does not include the high-speed requirements) will also be carried out in two modules. The obstacle avoidance and emergency braking exercises will be carried out in Module 1 at 30 km/h (approx. 19 mph). A test for the drivers of motorcycle and side car combination is also under development.
The Practical Test (Module 2)
The practical motorcycle test is made up of lots of different elements, an eyesight test, vehicle safety questions, a test of driving ability, a test of specific manoeuvres and a question about riding with a passenger.
At the test centre you must present a valid certificate DL196 unless the test is being conducted on one of the exempted islands. A rider who is upgrading a full moped licence obtained by passing a two part test since December 1990 is exempt.

Vehicle safety check questions and eyesight test
Before you actually start your practical riding test you will be asked to read a number plate to prove you can meet the eyesight requirements. You will also be asked two machine safety check questions before moving away.
CLICK HERE TO DOWNLOAD THE SAFETY CHECK QUESTIONS

After the usual pre-test preliminaries e.g. licence and identification check the examiner will help the candidate with the fitting of the radio and earpiece. While accompanying the candidate to the machine the examiner will explain how the test will be conducted and how the radio equipment works. The law requires anyone riding a motorcycle, scooter or moped, with or without sidecar, to wear protective headgear securely fastened. The test cannot therefore be conducted unless the candidate is wearing properly secured protective headgear.
Note: An exemption to this requirement exists for followers of the Sikh religion if they are wearing a turban.

After the practical part of the test the candidate will be asked a question on 'balance when carrying a passenger'.

At the end of the test when the practical test is over, the examiner will tell you whether you passed or failed. You can request feedback on your test from the examiner, who will then go through your performance during the test.

If you pass and have a photocard driving licence issued after 1 March, 2004 the examiner will ask you if you want your full driving licence issued to you automatically. If you want to use this service, the examiner will take your old licence off you, scan the details and send them electronically to the Driver and Vehicle Licensing Agency (DVLA). You will then be given a pass certificate to prove you passed your test. DVLA will then send you your new full licence by post within three weeks of you passing your practical test. If you pass your test but do not want to use this automatic service, or have a licence issued before 1 March 2004, you will be given a pass certificate by the examiner. On the back of the pass certificate it tells you what you need to do next. This involves sending your licence to DVLA who will then check your application and issue you with a new full licence.

If you fail...
If you fail the test you should ask the examiner for some feedback to help prepare yourself for your next test. Your driving report form will also show you where you made any mistakes. You must wait 10 clear working days after your practical test before you can book another one.
0208 452 3300
===============================================================
Restricted License (A2)
The restricted licence is aimed mainly at those who want a full motorcycle licence, but do not intend riding too powerful a motorbike in the immediate future. It is also the only licence that can be gained by those aged seventeen to twenty inclusive.
You must complete CBT, a Motorcycle Theory Test before taking this test.
The training and test throughout the course is very similar to the Direct access scheme. Students will complete the course and take their practical test on a motorcycle with an engine capacity of 125cc that is capable of reaching 62mph. A pass will entitle the license holder to ride motorcycles up to 25KW or 33bhp under a full license for 2 years. After the two years has expired the restriction automatically is removed and the license holder can ride any size motorcycle.

Accelerated access
Riders who reach the age of 21, while still within the two year period where they are restricted to maximum 25 kW (33 bhp) machines, but who wish to ride larger bikes need to pass a further test on a motorcycle of at least 35 kW (46.6 bhp). They may practice on bikes over 25 kW (33 bhp) under the same practice conditions for direct access riders. You will revert to learner status while practicing (on a motorcycle greater than 25 kW (33 bhp) although test failure will not affect your existing licence.
0208 452 3300
===============================================================
If you are 16 and want to ride
Information for moped riders. If you are 16 and want to ride a moped or scooter on the road you must have completed a compulsory basic training course to validate your provisional licence.

What is a moped?
A moped is a motorcycle that has the following features:

• Maximum design speed not exceeding 50 kilometres per hour (km/h) (about 31 miles per hour (mph)
• An engine capacity no greater than 50 cc
• It can be moved by pedals, if the moped was first used before 1 September 1977

Moped provisional licences:

You can only hold a provisional moped licence if you are at least 16 years old. It entitles you to ride a moped on the road as a learner with L-plates (D-plates in Wales) but you must not carry a pillion passenger or go on a motorway.
Your provisional licence is only valid when you have the DL 196 certificate issued on completion of compulsory basic training (CBT) by an approved training body (ATB).

A CBT certificate obtained on a moped is also valid for motorcycles once the rider has reached the age of 17 years and has the necessary licence.
If you want to ride a moped on the road without displaying L-plates you must take and pass a theory and practical driving test.
===============================================================
For Car Drivers
If you have a car licence...

If you obtained your full car licence before 1 February 2001 you are automatically entitled to ride a 50cc moped without L-plates (D-plates in Wales).
If you obtained a full car licence after 1 February 2001 you must first complete a CBT course and obtain a DL 196 certificate to validate your entitlement.
===============================================================
Minimum test vehicle requirements
Any vehicle presented for use in a driving test must meet minimum test vehicle standards. These standards are part of European Community legislation on driver licensing. Great Britain as a member of the European Union is obliged to comply with these requirements. Below are the minimum test vehicle requirements for mopeds and motorcycles.

Minimum test vehicle requirements for mopeds
A moped must have an engine capacity not exceeding 50 cc, and a maximum speed of 50 kilometres per hour (km/h) which is approximately equivalent to 31 miles per hour (mph). If first used before 1 August 1977, it must be equipped with pedals by which it can be propelled.

Minimum test vehicle requirements for motorcycles
If your motorcycle is less than 75 cc it is not acceptable for the practical motorcycle test. If you pass your practical test on a motorcycle with automatic or semi-automatic transmission, this will be recorded on your licence. Your full licence entitlement will be restricted to motorcycles in this category.

A light motorcycle (category A1) is defined as a solo motorcycle between 75 and 125 cc, with a power output not exceeding 11 kilowatts (kW) (maximum 14.6 brake horse power (bhp)). Please see note 1.

A standard motorcycle (category A) is defined as a solo motorcycle between 121 and 125 cc, capable of exceeding 100 km/h (62.1mph). Please note that the BMW C1 motorcycle is not a suitable machine for a practical test.

Vehicles used for the accelerated access and direct access scheme can have an unspecified engine capacity of at least 35 kW (46.6 bhp), with an unspecified speed.

The minimum test vehicle requirements for a motorcycle and side-car are the same as the solo machines, but categories A and A1 must not exceed a power to weight ratio of 0.16 kW/kg. Passengers are not allowed to ride in the sidecar during the test. Only candidates with certain disabilities can use a motorcycle and side-car combination for the test. The licence obtained as a result of this test will be restricted to this combination of vehicle.

Speedometers on imported vehicles
Regulation 35 of Construction and Use Regulations 1986 requires any motor vehicle used on or after 1 April 1984 to be capable of indicating speed in both mph and k/mh. Therefore vehicles used for test must display speed in either mph and k/mh or mph only. Vehicles displaying speed in k/mh only are not acceptable. Overlays on speedometers are not allowed.

Notes:
1.A light motorcycle licence (category A1) will give you full licence entitlement to ride machines up to 125 cc with a power output of up to 11 kW.

2.A standard motorcycle licence (category A) will restrict you for a period of two years to riding machines with a power output not exceeding 25 kW and a power/weight ratio not exceeding 0.16 kW/kg. After the two year period you may ride any motorcycle.

3.If you are aged 21 or over you can take the test on a motorcycle with a power output of at least 35 kW (46.6 bhp). If successful you can then ride any motorcycle
===============================================================
Theory Test
The theory test is made up of a multiple choice part and a hazard perception part. You need to pass both parts to pass it. Once you have passed the theory test you can then apply to take your practical driving test. The multiple choice part is delivered using a touch screen computer and the hazard perception part records your responses through the use of a computer mouse button. If you pass one part and fail the other you'll fail the whole test, and you'll need to take both parts again. The questions in each multiple choice test vary according to the category of vehicle you're hoping to obtain a licence for eg a motorcycle theory test will contain specific questions that don't appear in any other test. For the hazard perception test there are no separate versions for different vehicles, the items are drawn from the same pool, and each vehicle category takes the same test. However the pass mark is different for different categories of tests.
Click here to Book your Motorcycle Theory Test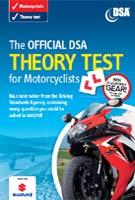 Take an official practice Theory Tests for motorcycle rider - Part 2/2 - Click Here
Read the Official Highway Code for Free